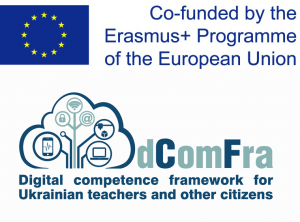 On September 24, a national monitoring of the project under the EU Funding Program: European Neighborhood Instrument (Erasmus+: KA2 CBHE) took place in Kyiv dComFra – Digital Competence Framework for Ukrainian Teachers and Other Citizens 598236-EPP-1 -2018-1-LT-EPPKA2-CBHE-SP. The monitoring mission was conducted at the territory of Kyiv National University of Culture and Arts.
The Ukrainian consortium members reported to the Erasmus+ National Office representatives and key project stakeholders for the first ten months of the project.
KNURE at the meeting was represented by the participants of the dComFra project team – employees of the department of systems engineering Igor Grebennik, Viktor Reshetnik, Inna Urniaieva. Representatives of the Erasmus+ National Office who monitored the project wished the project participants success in their future work and achievement of the ambitious goals of the project.