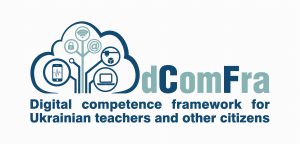 Kharkiv National University of Radio Electronics as part of a consortium of universities Wins the Erasmus + Competition with the Project ("Digital Competence Framework for Ukrainian Teachers and Other Citizens", dComFra). This project is one of six winners from Ukraine. 874 projects were submitted to the competition in 2018. The Executive Agency for Education, Audiovisual and Culture (EASEA) selected 147 projects, including 6 projects with the participation of Ukraine.
The project is implemented at the Department of Systems Engineering KNURE.
Project Title: «Digital Competence Framework for Ukrainian Teachers and Other Citizens», dComFra.
Registration No. 598236-EPP-1-2018-1-LT-EPPKA2-CBHE-SP
Project budget: 952 946,00 Euro
The website of this project – dcomfra.vdu.lt
The project manager from KNURE is Head of the department of System Engineering Igor Grebennik.
The purpose of this project is to improve the Digital Competence (DC) development situation in Ukraine (UA), to harmonize it with the European mainstream by adaptation of the Digital Competence Frameworks for Citizens and for Educators, creation Ukrainian National Digital Coalition (UNDC); to reform in-service training for teachers and to provide "best practices" experiences of how DC could be further developed in general and adapted to the challenges of the Higher Education sector within society at large. The motivation for this comes from the goal set by the European Commission in Digital Skills and Jobs Coalition, DigComp frameworks and the Digital Agenda for Europe (DAE).
The project aims to establish an effective UNDC network amongst UA educational institutions, associations, public authorities, business representatives; to design and implement UA DC frameworks; to make recommendations for modifying DC studies curriculum according to the DAE and modern labour market needs; to create DC trainings for teachers and for citizens; to provide high-quality DC trainings for various social strata of society.
To achieve the project goals, the following activities will be implemented:
EU DigComp frameworks analysis will be done;
Elaborating DC needs analysis report for UA will be conducted;
Concept, structure, and facilities of dComFra will be designed and implemented;
DC offices & DC e-Platform and 14 learning modules for different citizens groups and educators with practical tasks will be developed;
To improve DC for target groups the pilot trainings for 210 Teachers/140 refugees&ATO-veterans will be conducted;
Different workshops, events, etc. for target groups and wide society will be organized by UA partners for better awareness raising. UNDC will be launched for better influence;
Project outcomes and results will be delivered with various dissemination channels including professional societies, stakeholders of UNDC and project conference on DC in UA.
International Project Coordinator (Grant Holder): Vytautas Magnus University, Kaunas, Lithuania
Ukrainian Coordinator: Taras Shevchenko National University of Kyiv, Kyiv, Ukraine.
Project participants:
Vytautas Magnus University, Kaunas, Lithuania
Corinthian University of Applied Science, Villach, Austria
Czech University of Life Sciences Prague, Prague, Czech Republic
Pedagogical University of Cracow, Krakow, Poland
Polytechnic University of Bucharest, Bucharest, Romania
Public institution Information Technologies Institute, Kaunas, Lithuania
Taras Shevchenko National University of Kyiv, Kyiv, Ukraine
Kyiv National University of Culture and Arts, Kyiv, Ukraine
NTU "Kharkiv Polytechnic Institute", Kharkiv, Ukraine
Donetsk NTU, Pokrovsk, Ukraine
Chernivtsi National University. Yuriy Fedkovych, Chernivtsi, Ukraine
Kharkiv National University of Radio Electronics, Kharkiv, Ukraine
Kremenchug National University. Mikhail Ostrogradsky, Kremenchug, Ukraine
Ukrainian Association of Information Technology Professionals, Kharkiv, Ukraine, Kiev, Ukraine
Ministry of Education and Science of Ukraine, Kyiv, Ukraine
This project has been funded with support from the European Commission. This material reflects the views only of the author, and the National Agency and European Commission cannot be held responsible for any use which may be made of the information contained therein.